HOME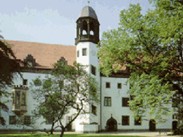 Lutherhale - Wittenberg

MARTIN LUTHER'S GERMANY

Leave USA on Wednesday

DAY 1 - FRANKFURT - ERFURT
Thursday
Arrive Frankfurt
Motor coach to Erfurt
Overnight in Erfurt (D)

DAY 2 - ERFURT
Friday
Guided Old City tour including Old Erfurt University, Augustinian Monastery, & Dom (guide in costume)
Guided tour of Augustinian Monastery
Free time in Old City
"Banquet a'la Dr. Luther" at LutherKeller
Overnight in Erfurt (B,D)

DAY 3 - ERFURT - EISENACH - ERFURT
Saturday
Guided tour of Old Eisenach including Lutherhaus, St. George Church and School, and Bach home
Guided tour of Wartburg Castle
Freetime in Eisenach. Dinner at Erfurt Ratskeller
Overnight in Erfurt (B,D)

DAY 4 - ERFURT - EISLEBEN - MANSFELD - WITTENBERG
Sunday
Guided tour Eisleben including Luther's birthplace and deathplace, Saints Peter and Paul Church, & St. Andrew's Church. Attend Sunday Worship.
Stop at Luther's boyhood home in Mansfeld. View historic copper mining area
Overnight in Wittenberg (B,D)







DAY 5 - WITTENBERG
Monday
Guided tour of Wittenberg including Castle Church, Lutherhaus, Melanchton's home, printshop, & St. Mary's
Town Church [Cranach's Triptych Altar]
Free time in town
Optional afternoon boat ride on Elbe River
Overnight in Wittenberg (B,D)

DAY 6 - WITTENBERG - COBURG
Tuesday
"Martin Luther - the reformer" guided tour including Veste Coburg and oldtown Coburg
Feast at Veste Coburg
Overnight in Coburg (B,D)

Day 7 - COBURG - ROTHENBURG ob der TAUBER
Wednesday
Guided tour of town including St. Jacob's Lutheran Church, Rathaus plaza, and portion of city wall
Lunch in historic tavern
Free time in town (famous for Christmas shopping as well as historic architecture)
Dinner on own.
Overnight in Rothenburg (B, L)

DAY 8 - ROTHENBURG - WORMS - RUDESHEIM
Thursday
Guided tour of Diet of Worms sites.
Afternoon cruise on Rhine to Rudesheim.
Overnight in Rudesheim (B, D)

DAY 9 - RUDESHEIM - FRANKFURT
Friday
Motor coach to Frankfurt Airport (B)

Hotels will be in or near historic town centers so that participants can make maximum us of . Actual details of tour are subject to change.
While we recommend this highly accepted itinerary, we would be happy to customize a tour itinerary for your group.
GeoExpress
CST 2062674-40